pCOXS (I/O board)
PCOXS*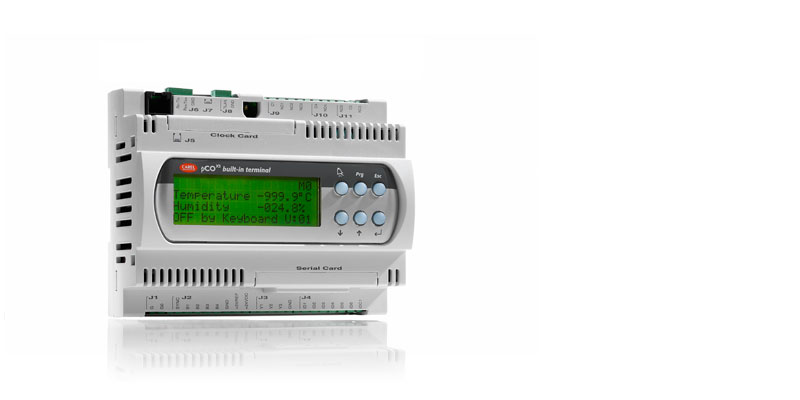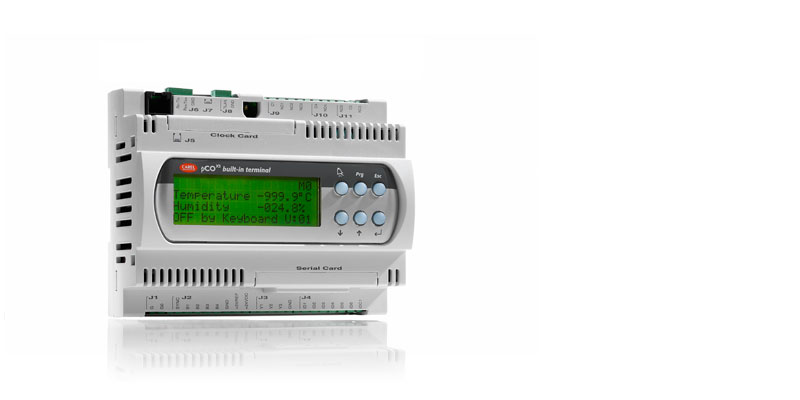 General characteristics

pCOXS is been designed to resolve the need for compactness and reliability in the control of chillers and heat pumps, small roof-top units and single-circuit precision air-conditioners, which until now have been covered only by parametric controllers. The flexibility of pCOXS allows the rapid and extended customisation of the software, while maintaining complete compatibility with the existing pCO sistema controllers and user interfaces and the other pLAN network modules (FCM speed controllers, drivers for direct expansion valves, aria series controllers). The compactness of the controller (8 DIN modules) and the number of inputs and outputs (21 in total) make pCOXS a versatile and competitive solution for manufacturers of air-conditioning units.
pCOXS is also ideal for the manufacturers of air handling systems, with a special version featuring the MP-Bus (Belimo) protocol for easy connection, using a single two-wire cable, to all the servo controls in the installation (maximum of 8), as well as an active or passive sensor for each servo control. pCOXS consequently allows the management of large air handling systems for limited costs.
Documentation
Technical
Manuals

* Entries are ordered by date

Code
Description
Language
Date *
Release

Code

+030220335

Description

pCO sistema: Manuale generale

Language

ITA

Date

17/04/2013

Release

1.6

Code

+030220336

Description

pCO sistema: General manual

Language

ENG

Date

17/04/2013

Release

1.6

Code

+03C220336

Description

pCO sistema 通用手册

Language

CHI

Date

11/05/2007

Release

1.0

Code

+030221960

Description

pCO Sistema - LonWorks® communication

Language

ENG ITA

Date

23/09/2003

Release

2.0

Code

+030220345

Description

pCOXS controllore elettronico programmabile/ pCOXS programmable electronic controller

Language

ENG ITA

Date

18/03/2003

Release

1.0

Code

+030220347

Description

pCOXS controlador electrónico programable/pCOXS programmable electronic controller

Language

ENG SPA

Date

18/03/2003

Release

1.0

Technical Leaflets

* Entries are ordered by date

Code
Description
Language
Date *
Release

Code

+05C003260

Description

pCOXS - 电子控制器 / Electronic controller

Language

CHI ENG

Date

20/10/2005

Release

1.4

Code

+050003260

Description

pCOXS Controllore elettronico / Electronic controller

Language

ENG ITA

Date

20/10/2005

Release

1.4

Code

+050000162

Description

PCOS00HBF* - PCOS00HBB* Schede seriali CANbus per pCO / pCO CANbus serial cards

Language

ENG ITA

Date

07/07/2005

Release

2.1
Commercial
Brochure

* Entries are ordered by date

Code
Description
Language
Date *
Release

Code

+302240373

Description

Retail sistema...the one solution

Language

GER

Date

09/06/2010

Release

4.0

Code

+302240671

Description

Wine industry Temperature and humidity control systems

Language

ENG

Date

28/05/2009

Release

1.0

Code

+302240670

Description

Industria del vino Sistemi per il controllo di temperatura e umidità

Language

ITA

Date

28/05/2009

Release

1.0

Code

+302240480

Description

retail sistema: soluzione integrata per il controllo e il risparmio energetico nella refrigerazione commerciale

Language

ITA

Date

01/03/2008

Release

1.1

Code

+302240481

Description

retail sistema integrated solution for control and energy savings in commercial refrigeration

Language

ENG

Date

01/03/2008

Release

1.1

Code

+30C240481

Description

retail sistema 商业制冷中 控制与节能的 整体解决方案

Language

CHI

Date

01/03/2008

Release

1.1

Code

+302240374

Description

Retail sistema...the one solution

Language

SPA

Date

07/02/2007

Release

4.1

Code

+302240375

Description

retail sistema...the one solution

Language

POR

Date

07/02/2007

Release

4.1

Code

+302240377

Description

retail... the one solution

Language

RUS

Date

07/02/2007

Release

4.1

Code

+302240370

Description

Retail Solutions... the one solution

Language

IND

Date

09/10/2006

Release

4.0

Code

+302240371

Description

Retail sistema...the one solution

Language

ENG

Date

09/10/2006

Release

4.0

Code

+302239450

Description

Soluzioni integrate per rooftop

Language

ITA

Date

01/10/2006

Release

1.0

Code

+302239451

Description

Integrated solutions for rooftop units

Language

ENG

Date

01/10/2006

Release

1.0

Code

+302238295

Description

pCOXS: compattezza ed affidabilità

Language

ITA

Date

27/07/2006

Release

1.0

Code

+302238296

Description

pCOXS: compactness and reliability

Language

ENG

Date

27/07/2006

Release

1.0

Code

+302239373

Description

Integrierte Lösungen für Bitzer-Schraubenverdichter

Language

GER

Date

01/03/2006

Release

1.0

Code

+302239376

Description

Комплексные решения для винтовых компрессоров Bitzer

Language

RUS

Date

01/03/2006

Release

1.0

Code

+302239371

Description

Integrated solutions for Bitzer screw compressors

Language

ENG

Date

01/03/2006

Release

1.0

Code

+302239381

Description

precision and shelter units

Language

ENG

Date

01/03/2006

Release

1.0

Code

+302239360

Description

Soluzioni integrate chiller e pompe di calore di grossa taglia

Language

ITA

Date

01/03/2006

Release

1.0

Code

+302239361

Description

Integrated solutions for large chillers/heat pumps

Language

ENG

Date

01/03/2006

Release

1.0

Code

+302239370

Description

Soluzioni integrate per i compressori a vite Bitzer

Language

ITA

Date

01/03/2006

Release

1.0

Code

+302238321

Description

pCO sistema: programmable controllers

Language

ENG

Date

15/02/2006

Release

1.0

Code

+302238320

Description

pCO sistema: controlli programmabili

Language

ITA

Date

15/02/2006

Release

1.0

Code

+302238323

Description

pCO sistema: Programmierbare Steuerungen

Language

GER

Date

15/02/2006

Release

1.0

Code

+302238281

Description

Integral control solution Air Handling Units

Language

ENG

Date

03/10/2005

Release

3.0

Code

+30C238281

Description

空气处理机组 的整体控制方案

Language

CHI

Date

03/10/2005

Release

3.0

Code

+302235350

Description

Soluzioni di controllo per panificazione e abbattitori

Language

ITA

Date

01/10/2005

Release

1.0

Code

+302240341

Description

Electronic compressed air generators and driers

Language

ENG

Date

01/11/2003

Release

1.0

Code

+302240340

Description

Regolazione elettronica per generatori di aria compressa ed essicatori

Language

ITA

Date

01/11/2003

Release

1.0