Waterloop systems solutions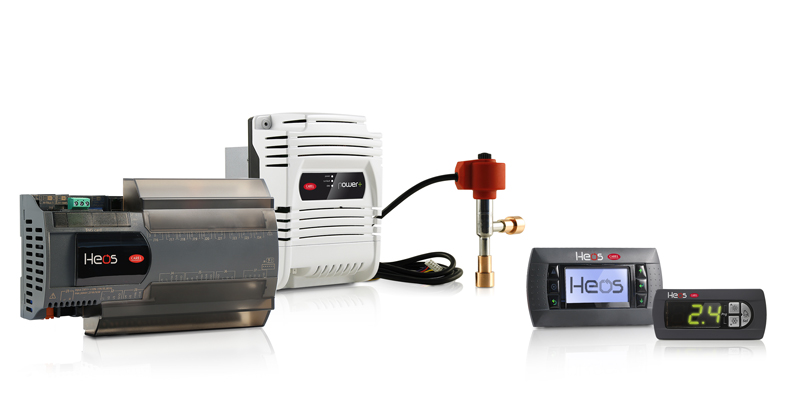 General characteristics

Heos sistema is the continuous-modulation solution for water loop systems in commercial refrigeration applications.
By using simple condensing units equipped with DC inverter compressors and electronic valves, maximum performance can be attained in terms of energy efficiency, optimum food preservation, easy installation and maintenance. Each unit can work independently of the others and in the best possible operating conditions, ensuring excellent stability and the highest possible evaporation temperature, making it by far the most efficient solution available on the market. Temperature control is managed using an advanced algorithm that adjusts cooling capacity in relation to demand, thus guaranteeing the highest quality of food preservation.

The heat generated by the compressor is taken away by a water loop to a simple dry cooler outside of the building, or alternatively can be easily recovered for use by the air-conditioning systems.
All of the components are designed to work in synergy, so as to achieve the best performance in all operating conditions.
Energy savings, the main objective of the system, are further ensured by controlling the water loop, using dedicated hardware that manages the main components, such as a dry cooler, pumps and selector valves.
Commissioning is simplified by the use of plug & play showcases, with a simple guided configuration procedure that saves time and effort, while complete control of the unit, combined with preventive diagnostics algorithms, helps avoid malfunctions and plan maintenance.

Plus

DC technology
Variable-speed compressors with DC motors allows considerable energy savings by guaranteeing optimum operation at part loads (which accounts for the bulk of operation). Permanent magnet motors feature less energy dissipation and increase efficiency. The wide range of modulation ensures the best operating conditions, guaranteeing improved stability and a reduction in ON/OFF cycles.
Electronic expansion valve with stepper motor
The modulation provided by the electronic expansion valve brings significant savings across the entire refrigeration cycle, above all when managed in perfect sync with the variable-speed compressor, allowing continuous evaporation temperature control so as to ensure efficiency in all operating conditions.
Advanced control systems
The use of advanced control systems and the significant amount of information acquired from both the system and the showcase controller mean predictive algorithms can be implemented to anticipate any malfunctions and/or breakages.
Heat recovery between the different systems in the building
The heat generated by condensing units with on-board compressors can always be recovered. The most flexible and practical solution involves the installation of a water-water heat pump, in which the cold source is the water used for the condensing stage on the showcases.