MPXone
S1M* / AX3*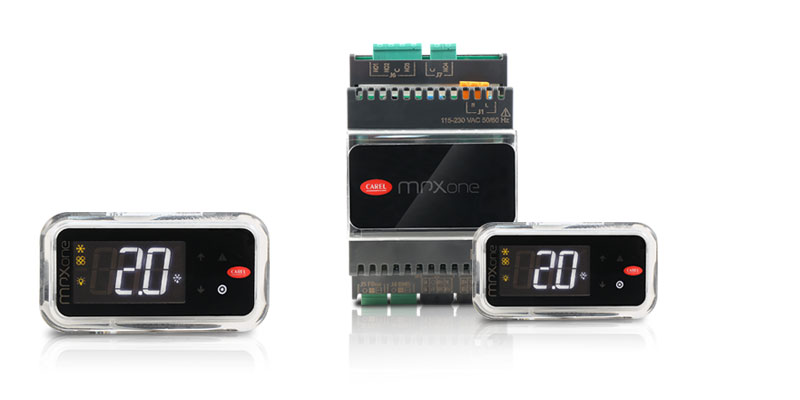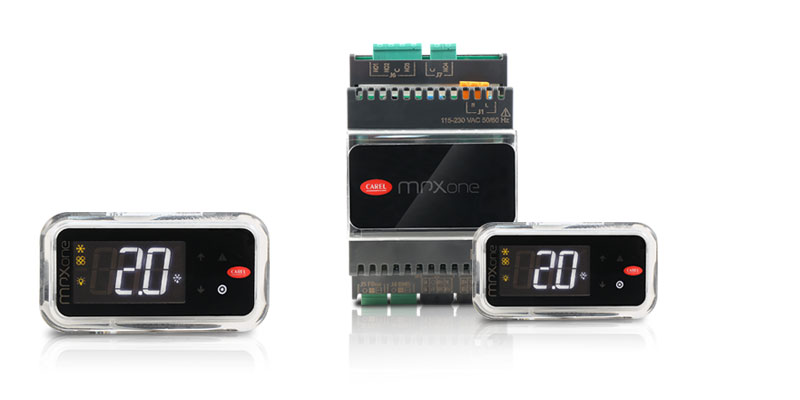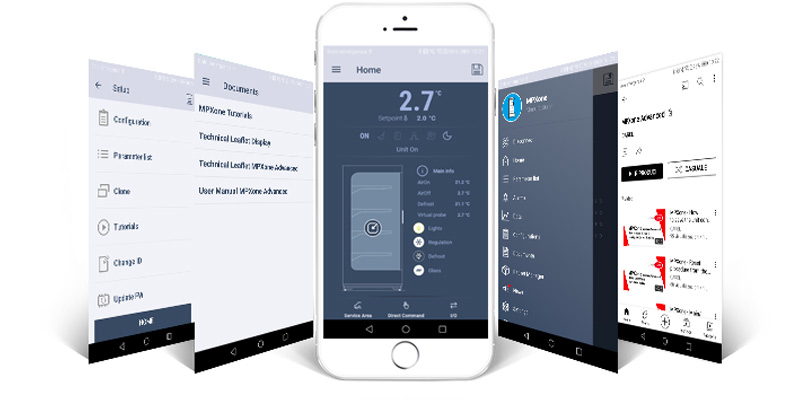 Plus

Always-on connectivity

Both in the field via integrated BMS and Fieldbus serial ports, and wireless via NFC™ and Bluetooth® technologies.

New interaction experience

Using the advanced tools available for both PCs and mobile devices

High efficiency

Through management of modulating loads and serial integration of the most innovative energy saving devices

General characteristics

MPXone extends and upgrades the MPX range of products for the control of multiplex refrigeration units.

Designed on a flexible and scalable platform, this product meets all the needs of the market for this application.

In addition to complete control of the refrigeration unit, MPXone further extends the concept of connectivity. As well as managing synchronised actions between uniform groups of cabinets and connecting to supervisory systems, wireless connectivity is integrated using NFC and Bluetooth technology, thus revolutionising the way users interact with the controller.

User simplicity, an upgraded appearance and high efficiency achieved through the management of modulating devices, are among the strengths of this solution.

The main features of MPXone are:

Complete management of a multiplex refrigerated cabinet for supermarket applications;
Management of local networks with Master/Slave architecture and up to 10 devices;
Integrated BMS for connection to local monitoring systems;
Wireless connectivity via NFC and Bluetooth technology for interaction with mobile devices;
Upgrade appearance, with large LED display, multicolour icons and backlit buttons;
Easy installation, either panel mounted or DIN rail.
Documentation
Technical
Technical Leaflets

* Entries are ordered by date

Code
Description
Language
Date *
Release

Code

+0500140RU

Description

Электронный контроллер MPXone для централизованного управления холодильным оборудованием

Language

RUS

Date

23/10/2018

Release

1.3

Code

+0500140EN

Description

MPXone Electronic controller for centralised commercial refrigeration applications

Language

ENG

Date

23/10/2018

Release

1.3

Code

+0500140IT.pdf

Description

MPXone Controllo elettronico per applicazioni di refrigerazione commerciale centralizzate

Language

ITA

Date

23/10/2018

Release

1.3

Manuals

* Entries are ordered by date

Code
Description
Language
Date *
Release

Code

+0300086EN

Description

MPXone Electronic control for refrigeration applications

Language

ENG

Date

04/09/2018

Release

1.0

Code

+0300086RU

Description

MPXone Электронное управление для холодильного оборудования

Language

RUS

Date

04/09/2018

Release

1.0

Code

+0300086IT

Description

MPXone Controllo elettronico per applicazioni di refrigerazione

Language

ITA

Date

04/09/2018

Release

1.0
Commercial
Brochure

* Entries are ordered by date

Code
Description
Language
Date *
Release

Code

+3000130EN

Description

On Show at ATMOsphere Europe 2018

Language

ENG

Date

28/11/2018

Release

2.1

Code

+3000163ES

Description

MPXone Conectividad total y alta eficiencia para mostradores frigoríficos canalizados

Language

SPA

Date

01/10/2018

Release

2.0

Code

+3000163PT

Description

MPXone Conectividade total e alta eficiência para balcões refrigerados canalizados

Language

POR

Date

01/10/2018

Release

2.0

Code

+3000163IT

Description

MPXone Connettività totale ed alta efficienza per banchi frigo canalizzati

Language

ITA

Date

01/10/2018

Release

2.0

Code

+3000163EN

Description

MPXone - Total connectivity and high efficiency for multiplex showcases

Language

ENG

Date

01/10/2018

Release

2.0

Code

+3000163RU

Description

MPXone

Language

RUS

Date

01/10/2018

Release

2.0

Code

+3000176EN

Description

On show at Chillventa 2018

Language

ENG

Date

01/10/2018

Release

1.0

Code

+3000163PL

Description

MPXone Pełna komunikacja i wysoka wydajnosc dla ciagów mebli chłodniczych

Language

POL

Date

01/10/2018

Release

2.0

Code

+3000163ZH

Description

Total connectivity and high efficiency for multiplex showcases

Language

CHI

Date

01/10/2018

Release

2.0