pCO3 (I/O board)
PCO3*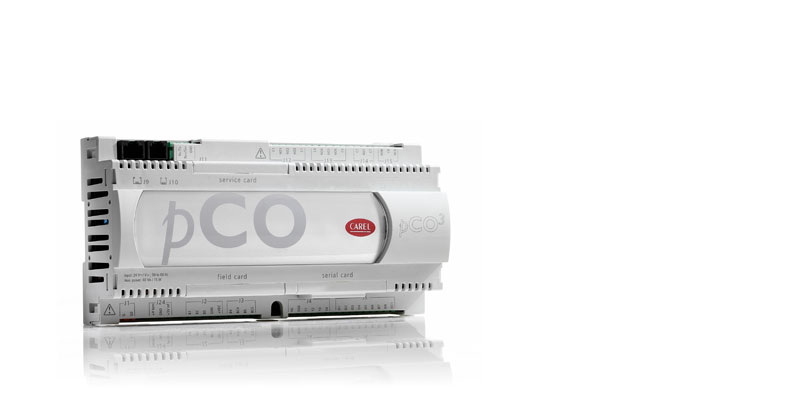 General characteristics

pCO3 represents the most advanced offering by CAREL in the field of programmable controllers.
pCO3 is designed for many air-conditioning and refrigeration applications.
It comes in various sizes, according to the I/O and power requirements (Small, Medium, Large, Extra Large).
All the boards feature a 32-byte microprocessor, and consequently the calculation power and operation processing speed have been significantly increased. As for all the pCO series controllers, pCO3 comes in a plastic case that ensures a high index of protection and reduces the risk of electrostatic discharges due to incorrect handling. In addition, assembly is simplified by the DIN rail mounting system, allowing significant saving in wiring and assembly times.
Given the increasing demand for integration, pCO3 can interface with many of the most commonly-used serial communication standards, and, using optional cards, can be integrated into the most widespread BMS systems.
pCO3 include connection to ratiometric pressure sensors; integration of pGD technology for the Built-In terminal; upgraded programming key; 3 serial ports: a serial one, pLAN and two optional, Field Bus and BMS, available with different communication protocols. All of these features ensure a level of excellence in responding to the needs of the HVAC/R market.
Documentation
Technical
Manuals

* Entries are ordered by date

Code
Description
Language
Date *
Release

Code

+030220335

Description

pCO sistema: Manuale generale

Language

ITA

Date

17/04/2013

Release

1.6

Code

+030220336

Description

pCO sistema: General manual

Language

ENG

Date

17/04/2013

Release

1.6

Code

+030222030

Description

pCO3 inseritore universale

Language

ITA

Date

24/11/2009

Release

1.1

Code

+030221520

Description

CONTROLLORE D'AREA PER RETI IDRONICHE: Programma applicativo per pCO3

Language

ITA

Date

03/09/2009

Release

1.1

Code

+030221521

Description

AREA CONTROLLER FOR E-DRONIC NETWORKS: Application program for pCO3

Language

ENG

Date

14/06/2007

Release

1.0

Technical Leaflets

* Entries are ordered by date

Code
Description
Language
Date *
Release

Code

+050003290

Description

pCO3: electronic controller

Language

ENG FRE GER ITA

Date

03/08/2011

Release

1.6

Code

+050003299

Description

pCO3: electronic controller электронный контроллер

Language

ENG RUS

Date

03/08/2011

Release

1.6

Code

+05C003290

Description

pCO3 电子控制器 electronic controller

Language

CHI

Date

09/09/2008

Release

1.5

Code

+05J003290

Description

pCO3 - 電子制御器 / electronic controller

Language

ENG JAP

Date

12/04/2006

Release

1.3
Commercial
Application Note

* Entries are ordered by date

Code
Description
Language
Date *
Release

Code

+402200161

Description

Lösungen für den Einsatz von CO2 in der Gewerbekälte

Language

GER

Date

02/07/2007

Release

1.0

Code

+402200160

Description

Soluzioni per l'utilizzo della CO2 nella refrigerazione commerciale/ Solutions for the use of CO2 in commercial refrigeration

Language

ENG ITA

Date

02/07/2007

Release

1.0

Brochure

* Entries are ordered by date

Code
Description
Language
Date *
Release

Code

+302240490

Description

looking at the future

Language

ITA

Date

01/10/2012

Release

4.1

Code

+302238260

Description

Soluzioni d'avanguardia per la connettività

Language

ITA

Date

01/07/2010

Release

4.2

Code

+302240373

Description

Retail sistema...the one solution

Language

GER

Date

09/06/2010

Release

4.0

Code

+302240670

Description

Industria del vino Sistemi per il controllo di temperatura e umidità

Language

ITA

Date

28/05/2009

Release

1.0

Code

+302240671

Description

Wine industry Temperature and humidity control systems

Language

ENG

Date

28/05/2009

Release

1.0

Code

+302240374

Description

Retail sistema...the one solution

Language

SPA

Date

07/02/2007

Release

4.1

Code

+302240375

Description

retail sistema...the one solution

Language

POR

Date

07/02/2007

Release

4.1

Code

+302240377

Description

retail... the one solution

Language

RUS

Date

07/02/2007

Release

4.1

Code

+302240371

Description

Retail sistema...the one solution

Language

ENG

Date

09/10/2006

Release

4.0

Code

+302240370

Description

Retail Solutions... the one solution

Language

IND

Date

09/10/2006

Release

4.0

Code

+302239440

Description

Soluzioni integrate per compressori Turbocor

Language

ITA

Date

01/10/2006

Release

1.0

Code

+302239441

Description

Integrated solutions for Turbocor compressors

Language

ENG

Date

01/10/2006

Release

1.0

Code

+30C238261

Description

pCO sistema 控制器通讯前沿技术

Language

CHI

Date

01/10/2006

Release

4.0

Code

+302239376

Description

Комплексные решения для винтовых компрессоров Bitzer

Language

RUS

Date

01/03/2006

Release

1.0

Code

+302239360

Description

Soluzioni integrate chiller e pompe di calore di grossa taglia

Language

ITA

Date

01/03/2006

Release

1.0

Code

+302239361

Description

Integrated solutions for large chillers/heat pumps

Language

ENG

Date

01/03/2006

Release

1.0

Code

+302239370

Description

Soluzioni integrate per i compressori a vite Bitzer

Language

ITA

Date

01/03/2006

Release

1.0

Code

+302239371

Description

Integrated solutions for Bitzer screw compressors

Language

ENG

Date

01/03/2006

Release

1.0

Code

+302239373

Description

Integrierte Lösungen für Bitzer-Schraubenverdichter

Language

GER

Date

01/03/2006

Release

1.0

Code

+302238321

Description

pCO sistema: programmable controllers

Language

ENG

Date

15/02/2006

Release

1.0

Code

+302238320

Description

pCO sistema: controlli programmabili

Language

ITA

Date

15/02/2006

Release

1.0

Code

+302238323

Description

pCO sistema: Programmierbare Steuerungen

Language

GER

Date

15/02/2006

Release

1.0