pCO5 (I/O board)
pCO5*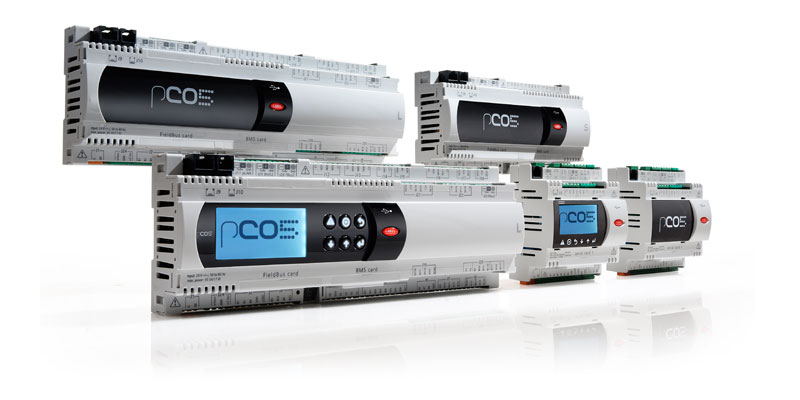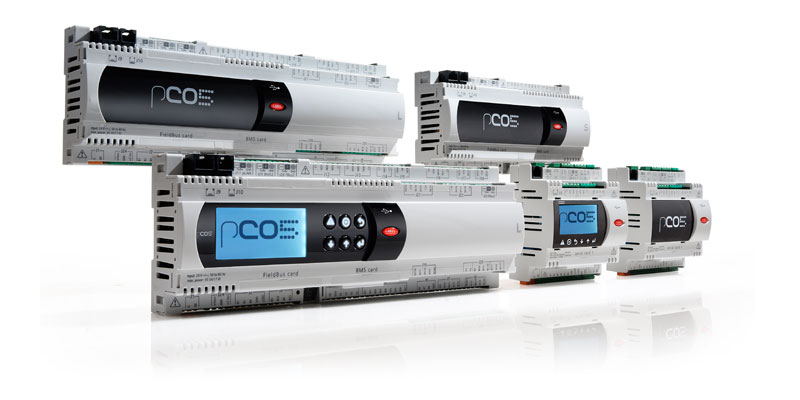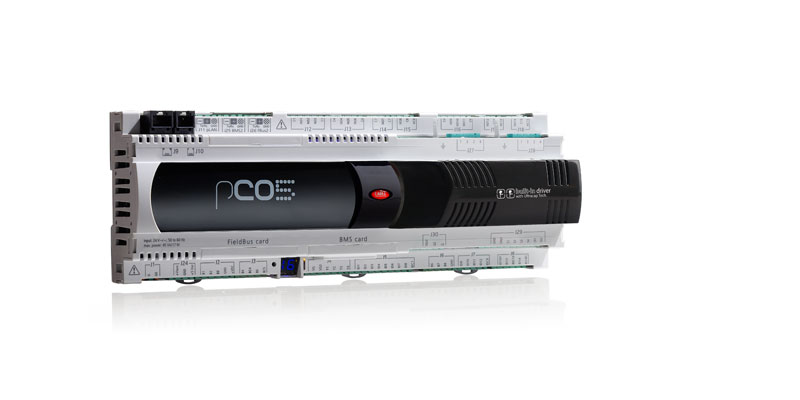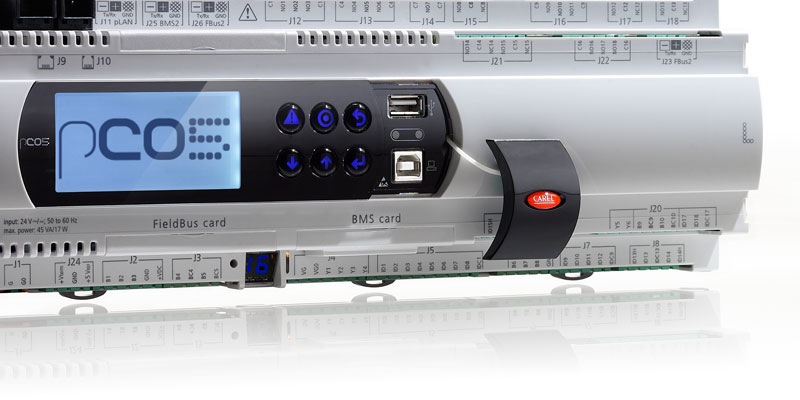 General characteristics

The new proposal from CAREL in its range of programmable controllers is the result of continual improvements in more than 25 years' experience in the development of controllers for the HVAC/R market. Compared to the current family of pCO controllers (pCO3), the pCO5 has been enhanced with specific new functions to improve the efficiency of HVAC/R systems, such as integration of the electronic expansion valve driver, with ultra cap technology that guarantees the valve is closed in the event of power failures. In addition, the pCO5 offers more demanding designers up to five serial lines, three of which are always available and allow the protocol to be configured, plus two optional lines that can be configured in terms of both the protocol (Modbus®, BACnet™, CAREL, CANbus, Konnex LON) and the physical support (RS485, Ethernet, CAN, Konnex, Echelon®). Versions are available with both "Host" and "Device" USB ports for connecting a standard USB pendrive and connecting directly to a PC without needing serial coverters.
Integration of these functions brings various benefi ts to manufacturers and designers of HVAC/R systems, including:

less wiring, as the EXV driver modules, battery charger modules and backup battery modules have been replaced in the pCO5 by the built-in EXV driver with ultra cap technology
guaranteed closing of the valve in the event of power failures, thanks to ultra cap technology. This eliminates the need for the solenoid valve that was previously required to guarantee closing of the circuit if no battery module was available more powerful and distributed control thanks to the fi ve serial lines, allowing management of smart actuators such as drivers for compressors with DC inverter technology, brushless fans (EC Fans), centrifugal compressors, variable flow-rate pumps, serial sensors, wireless probes, heat meters, etc.
lower overall cost than the pCO3 thanks to integration of the functions described here

Naturally, the pCO5 guarantees perfect compatibility with the entire range of pCO3 controllers, in both HW and SW terms, so as to protect and guarantee the investments of CAREL customers

Plus

Backward Compatibility - pCO5 is Pin to Pin compatible with pCO3. Software is fully binary compatible using pCO3 emulation BIOS.

Connectivity - pCO5 features two integrated serial interfaces, two optional expansion cards and two USB ports.

USB - Simple service and monitoring using the standard USB ports. USB Host port available to connect standard USB dongle and USB Device port to connect to a PC without external converters.

Energy Saving - pCO5 Medium model embeds two EVDEVO Expansion Valve Drivers with optional Uptracap module, for integrated energy saving management.
Documentation
Technical
Manuals

* Entries are ordered by date

Code
Description
Language
Date *
Release

Code

+0300009IT

Description

pCO5: controllo programmabile

Language

ITA

Date

24/04/2014

Release

1.2

Code

+0300009EN

Description

pCO5: programmable controller

Language

ENG

Date

24/04/2014

Release

1.2

Code

+030221945

Description

Protocollo Modbus® sui controlli pCO/ Modbus® protocol for pCO controllers

Language

ENG ITA

Date

18/07/2012

Release

1.1

Technical Leaflets

* Entries are ordered by date

Code
Description
Language
Date *
Release

Code

+0500040RU

Description

pCO5: электронный контроллер/ electronic controller

Language

RUS

Date

07/06/2011

Release

1.2

Code

+0500040ML

Description

pCO5: controllo elettronico/ electronic controller/ Elektronische Steuerung

Language

ENG GER ITA

Date

07/06/2011

Release

1.2

Code

+0500041IE

Description

PCOS00UC20: ULTRACAPacitor MODULE per pCO SISTEMA con driver valvola EVDEVO EMBEDDED / ULTRACAPacitor MODULE for pCO sistema with valve driver EMBEDDED EVDEVO

Language

ENG ITA

Date

15/12/2010

Release

1.0
Commercial
Brochure

* Entries are ordered by date

Code
Description
Language
Date *
Release

Code

+3000036ZH

Description

螺杆冷水机组/热泵 集成解决方案

Language

CHI

Date

15/03/2011

Release

1.0

Code

+3000036EN

Description

Solution for screw chiller and heat pump units

Language

ENG

Date

15/03/2011

Release

1.0

Code

+3000021SV

Description

integrerade lösningar för högpresterande enheter

Language

SWE

Date

01/03/2010

Release

1.0

Code

+3000021IT

Description

PCO SISTEMA+

Language

ITA

Date

01/03/2010

Release

1.0

Code

+3000021EN

Description

PCO SISTEMA+

Language

ENG

Date

01/03/2010

Release

1.0

Code

+3000021DE

Description

PCO SISTEMA+

Language

GER

Date

01/03/2010

Release

1.0

Other related documentation

* Entries are ordered by date

Code
Description
Language
Date *
Release

Code

+3000054EN

Description

Energy saving solutions for data centers

Language

ENG

Date

26/05/2023

Release

3.0

Code

+3000054ZH

Description

数据中心节能解决方案

Language

CHI

Date

11/10/2016

Release

2.0

Success Story

* Entries are ordered by date

Code
Description
Language
Date *
Release

Code

+4000017IT

Description

La tecnologia della piattaforma servizi tERA e la professionalità ed esperienza del service Blue Box al servizio del cliente.

Language

ITA

Date

20/03/2012

Release

1.0

Code

+4000015PT

Description

Integração é sinônimo de economia energética

Language

POR

Date

03/08/2011

Release

1.0

Code

+4000015IT

Description

Integrazione è sinonimo di risparmio energetico

Language

ITA

Date

03/08/2011

Release

1.0

Code

+4000015FR

Description

Intégration est synonyme d'économie d'énergie

Language

FRE

Date

03/08/2011

Release

1.0

Code

+4000015ES

Description

Integración es sinónimo de ahorro energético

Language

SPA

Date

03/08/2011

Release

1.0

Code

+4000015EN

Description

Integration means energy saving

Language

ENG

Date

03/08/2011

Release

1.0

Code

+4000015DE

Description

Integrieren heißt Energie sparen

Language

GER

Date

03/08/2011

Release

1.0