pR100
PRK100*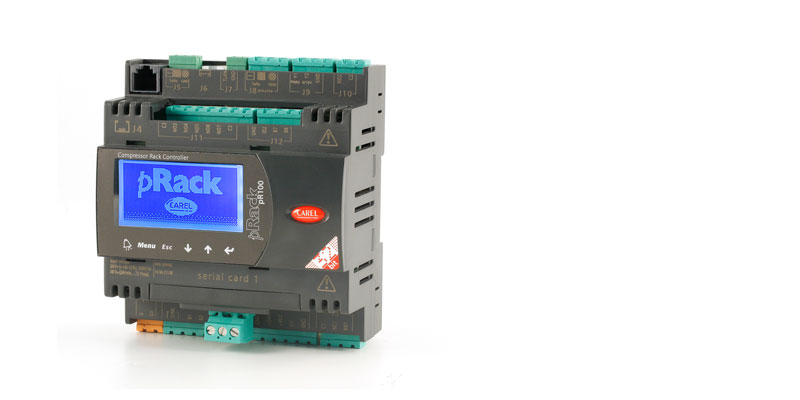 Plus

pRack contains up to 10 board functions that can be completely customised and used to satisfy all particular requests of the market.




Using free analogue inputs or inner system variables for the tool, you can customise the unit with specific software directly from the user interface without requiring any product customisation.

General characteristics

pR100, ideal for standard applications, is characterised by its capacity to adapt itself to the plant and to the features of the electric panel.


Easy to use, complete customisability of the type of plant and maximum availability of I/O are the key points that made pRack an important element on the Retail market, regarding the refrigerating units management; more detailed:





1 Wizard: Step-by-step procedure for first configuration of pRack. By simply responding to the questions made by automatically made by the tool, pRack can automatically set the main primary parameters necessary for a safe start of the machine.





2. Double line: pRack allows complete management of an entire plant with low-medium temperature with a single control. Besides the traditional configurations with a suction line and a condensing line you can manage up to two suction lines and two condensing lines split or shared.





3 Multi-board: The flexible architecture of pRack allows you to connect together multiple commands making them part of a single system, able to manage up to two complete systems. These configurations allow an increase in the number of inputs and outputs available for the implementation of particular adjustments and the installation of a dedicated tool near the controlled system, avoiding unnecessary use of cables.





pR100 can interface with the intelligent control system for energy saving pLoads (PLO550*30U*00); these two control systems allow you to limit or modulate the supplied refrigerating power, optimising the electrical consumption as to avoid absorption peaks and maintaining at the same time proper functioning of the refrigerating unit.
Documentation
Technical
Manuals

* Entries are ordered by date

Code
Description
Language
Date *
Release

Code

+0300011FR

Description

pRack pR100: régulateur programmable

Language

FRE

Date

10/11/2015

Release

1.3

Code

+0300011IT

Description

pRack pR100: controllo per centrali frigo

Language

ITA

Date

10/11/2015

Release

1.3

Code

+0300011PT

Description

pRack pR100: Controle programável

Language

POR

Date

10/11/2015

Release

1.3

Code

+0300011ES

Description

pRack pR100: controlador para central frigorífica

Language

SPA

Date

10/11/2015

Release

1.3

Code

+0300011EN

Description

pRack pR100: compressor rack controller

Language

ENG

Date

10/11/2015

Release

1.3

Code

+0300011DE

Description

pRack pR100: Programmierbare Steuerung

Language

GER

Date

10/11/2015

Release

1.3

Code

+0300011SV

Description

pRack PR100: Regulator för kompressor rack

Language

SWE

Date

04/12/2012

Release

1.2

Code

+0300011RU

Description

pRack PR100: Программируемый контроллер

Language

RUS

Date

20/09/2011

Release

1.0

Code

+0300011CS

Description

pRack PR100: programovatelný kontroler

Language

CZE

Date

20/09/2011

Release

1.1